Gibberula jansseni van Aartsen, Menkhorst & Gittenberger, 1984
Dataset

GBIF Backbone Taxonomy

Rank

SPECIES

Published in

van Aartsen, J. J., Menkhorst, H. P. M. G., & Gittenberger, E. (1984). The marine mollusca of the Bay of Algeciras, Spain, with general notes on Mitrella, Marginellidae and Turridae. Basteria, Supplement 2: 1–135. https://www.molluscabase.org/aphia.php?p=sourcedetails&id=39095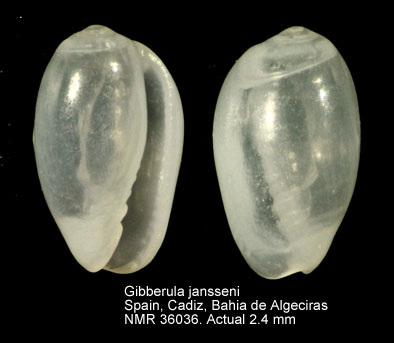 http://creativecommons.org/licenses/by/4.0/
Classification
kingdom

Animalia

phylum

Mollusca

class

Gastropoda

order

Neogastropoda

family

Cystiscidae

genus

Gibberula

species

Gibberula jansseni
Bibliographic References
Gofas S. (1990). Le genre <i>Gibberula</i> (Marginellidae) en Méditerranée. <i>Lavori, Società Italiana di Malacologia 23</i>: 113-139
Gofas, S.; Le Renard, J.; Bouchet, P. (2001). Mollusca. in: Costello, M.J. et al. (eds), European Register of Marine Species: a check-list of the marine species in Europe and a bibliography of guides to their identification. <em>Patrimoines Naturels.</em> 50: 180-213.
van Aartsen, J.J.; Menkhorst, H.P.M.G.; Gittenberger, E. (1984). The marine mollusca of the Bay of Algeciras, Spain, with general notes on <i>Mitrella</i>, Marginellidae and Turridae. <em>Basteria.</em> Supplement 2: 1-135.