Accacladocoelium alveolatum Robinson, 1934
Dataset

GBIF Backbone Taxonomy

Rank

SPECIES

Published in

Robinson, V. C. (1934). A new species of accacoeliid trematode (Accacladocoelium alveolatum n. sp.) from the intestine of a sun-fish (Orthagoriscus mola Bloch). Parasitology, 26, 346–351. https://www.marinespecies.org/aphia.php?p=sourcedetails&id=335749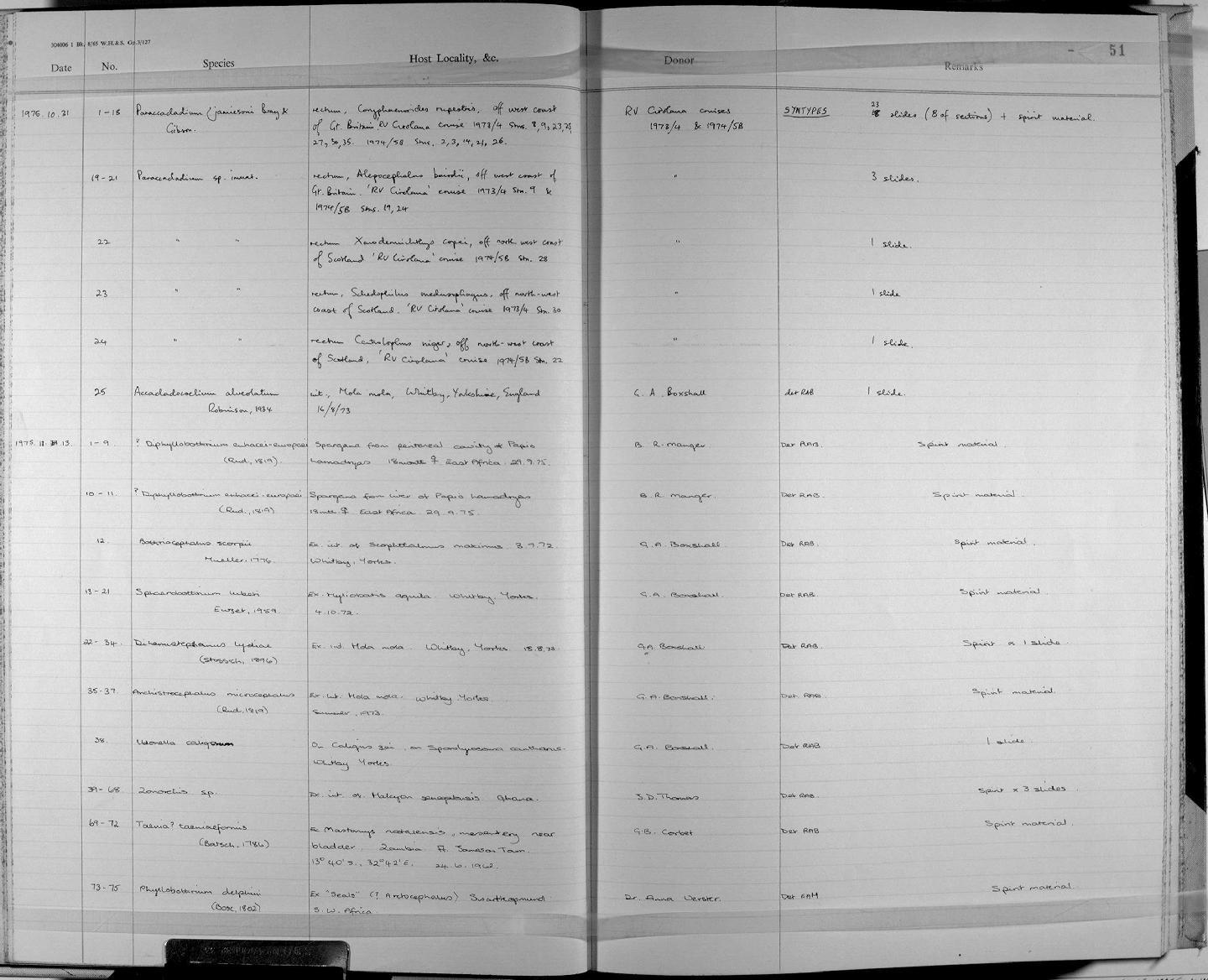 http://creativecommons.org/licenses/by/4.0/
Classification
kingdom

Animalia

phylum

Platyhelminthes

class

Trematoda

order

Plagiorchiida

family

Accacoeliidae

genus

Accacladocoelium

species

Accacladocoelium alveolatum
Bibliographic References
Bray, R. A., Gibson, D. I. (1977). The Accacoeliidae (Digenea) of fishes from the north-east Atlantic. <em>Bulletin of the British Museum (Natural History) (Zoology Series).</em> 31, 53–99.
Dawes, B. (1947). The Trematoda of British Fishes. <em>Ray Society, London.</em> 364 pp.
Gibson, D.I. (2001). Digenea, <B><I>in</I></B>: Costello, M.J. <i>et al.</i> (Ed.) (2001). <i>European register of marine species: a check-list of the marine species in Europe and a bibliography of guides to their identification. Collection Patrimoines Naturels,</i> 50: pp. 136-142
Johns, P.; Newman, L.J.; Holleman, J.J.; Dawson, E.W.; Sterrer, W.; Allison, F.R.; Diggles, B.K.; Andrews, J.R.H.; Hine, P.M.; McKenna, P.B.; Poulin, R. (2009). Phylum Platyhelminthes: flatworms, tapeworms, flukes, in: Gordon, D.P. (Ed.) (2009). New Zealand inventory of biodiversity: 1. Kingdom Animalia: Radiata, Lophotrochozoa, Deuterostomia. pp. 102-128.
Kohn, A.; Fernandes, B.M.M.; Cohen, S.C. (2007). South American trematode parasites of fishes. <em>CNPq, FIOCRUZ.</em> 318 pp.
Lundin (2015-01-20 23:00:00) Checklista_svenska_Cestoda_Trematoda_Acanthocephala.xls via mejl till Johan Liljeblad 2014-12-12.
Robinson, V. C. (1934). A new species of accacoeliid trematode (Accacladocoelium alveolatum n. sp.) from the intestine of a sun-fish (Orthagoriscus mola Bloch). <em>Parasitology.</em> 26, 346-351.