Tetrochetus coryphaenae Yamaguti, 1934
Dataset

GBIF Backbone Taxonomy

Rank

SPECIES

Published in

Yamaguti, S. (1934). Studies on the helminth fauna of Japan. Part 2. Trematodes of fishes. I. Japanese Journal of Zoology, 5: 249–541. https://www.marinespecies.org/aphia.php?p=sourcedetails&id=276100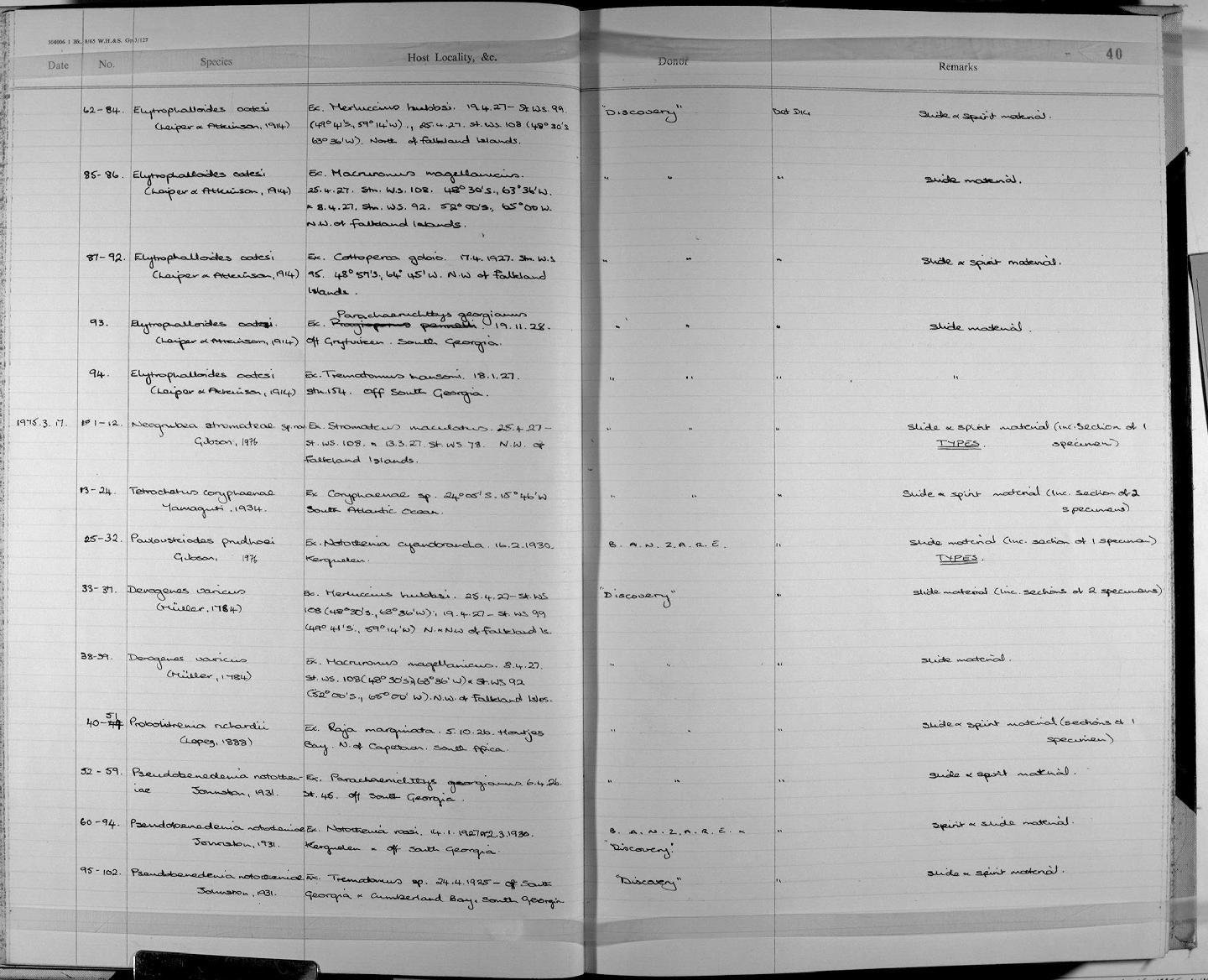 http://creativecommons.org/licenses/by/4.0/
Classification
kingdom

Animalia

phylum

Platyhelminthes

class

Trematoda

order

Plagiorchiida

family

Accacoeliidae

genus

Tetrochetus

species

Tetrochetus coryphaenae
Bibliographic References
Châari, M.; Derbel, H.; Neifar, L. (2016). Morphometrics and levels of infections of digeneans in belonid fish species off the coast of Tunisia. <em>Journal of Helminthology.</em> 90 (5): 523–532.
Châari, M.; Derbel, H.; Neifar, L. (2016). Sclerodistomoides pacificus Kamegai, 1971 (Sclerodistomoididae Gibson & Bray, 1979) and Tetrochetus coryphaenae Yamaguti, 1934 (Accacoeliidae Odhner, 1911), two rarely reported digeneans from Tylosurus acus imperialis (Rafinesque) (Belonidae), and a list of helminth parasites of Tylosurus acus (Lacépède). <em>Systematic Parasitology.</em> 93 (4): 375–386.
Fernandes, B. M. M., Kohn, A., Santos, A. L. (2002). Some Digenea parasites of tunny from the coast of Rio de Janeiro State, Brazil. <em>Brazilian Journal of Biology.</em> 62 (3): 453–457.
Gibson, D.I. (1976). Monogenea and Digenea from fishes. <em>Discovery Reports.</em> 36, 179-266.
Hafeezullah, M. (1988). Studies on the genus Tetrochetus Looss, 1912 (Digenea: Hemiuroidea: Accacoeliidae) occurring in Indian marine fishes. <em>Records of the Zoological Survey of India.</em> 85 (2): 349–361.
Kohn, A.; Fernandes, B.M.M.; Cohen, S.C. (2007). South American trematode parasites of fishes. <em>CNPq, FIOCRUZ.</em> 318 pp.
Korotaeva, V.D. (1976). The Trematode fauna of the family Accacoeliidae from Pacific fish. <em>Biologiya Morya Vladivostok.</em> 4, 60-62.
Liu, J.Y. [Ruiyu] (ed.). (2008). Checklist of marine biota of China seas. <em>China Science Press.</em> 1267 pp.
Madhavi, R., Bray, R. A. (2018). <em>Digenetic Trematodes of Indian Marine Fishes.</em> Springer, Dordrecht, 693 pp.
Madhavi, R., Meenakshi, M., Sai Ram, B. K. (1993). Adult and larva of Tetrochetus coryphaenae Yamaguti, 1934 (Trematoda, Accacoeliidae). <em>Acta Parasitologica.</em> 38 (1): 8–10.
Manter, H.W. (1947). The digenetic trematodes of marine fishes of Tortugas. <em>American Midland Naturalist.</em> 38, 257–416.
Oliva, M. (1984). Nuevos registros de trematodos digeneos en peces marinos de Antofagasta. <em>Ciencia y Tecnologia del Mar, CONA.</em> 8, 9–15.
Overstreet, R. M., J. O. Cook, and R. W. Heard. 2009. Trematoda (Platyhelminthes) of the Gulf of Mexico, Pp. 419–486 in Felder, D.L. and D.K. Camp (eds.), Gulf of Mexico–Origins, Waters, and Biota. Biodiversity. Texas A&M Press, College Station, Texas.
Pérez del Olmo, A., M. Fernández, D.I. Gibson, J.A. Raga & A. Kostadinova. (2007). Descriptions of some unusual digeneans from Boops boops L. (Sparidae) and a complete checklist of its metazoan parasites. Systematic Parasitology 66(2):137-157.
Pérez-Ponce de León, G., Garcia-Prieto, L., Mendoza-Garfias, B. (2007). Trematode parasites (Platyhelminthes) of wildlife vertebrates in Mexico. <em>Zootaxa.</em> 1534: 247 pp.
Shen, J. W. (1990). Digenetic trematodes of marine fishes from Hainan Island. <em>Beijing: Science Press.</em> 228 pp. (In Chinese).
Skrjabin, K. I., Guschanskaja, L. H. (1959). Suborder Hemiurata (Markevitsch, 1951) Skrjabin et Guschanskaja, 1954. Family Accacoeliidae Looss, 1912. <em>Osnovy Trematodologii.</em> 16, 99-183. (In Russian).
Williams, E.H., Jr. & L. Bunkley-Williams. (1996). Parasites of offshore big game fishes of Puerto Rico and the western Atlantic. Department of Natural and Environmental Resources & University of Puerto Rico, San Juan & Mayaguez 382pp.
Yamaguti, S. (1934). Studies on the helminth fauna of Japan. Part 2. Trematodes of fishes. <em>I. Japanese Journal of Zoology.</em> 5: 249-541.
Yamaguti, S. (1970). Digenetic trematodes of Hawaiian fishes. <em>Tokyo: Keigaku.</em> 436 pp.