Centropages furcatus (Dana, 1849)
Dataset

GBIF Backbone Taxonomy

Rank

SPECIES
Usage Conditions Apply
Usage Conditions Apply
Usage Conditions Apply
Usage Conditions Apply
Usage Conditions Apply
Usage Conditions Apply
Usage Conditions Apply
Usage Conditions Apply
Usage Conditions Apply
Usage Conditions Apply
Usage Conditions Apply
Usage Conditions Apply
Usage Conditions Apply
Usage Conditions Apply
Usage Conditions Apply
Usage Conditions Apply
Usage Conditions Apply
http://creativecommons.org/licenses/by/4.0/
Usage Conditions Apply
Usage Conditions Apply
Usage Conditions Apply
Usage Conditions Apply
Usage Conditions Apply
Usage Conditions Apply
Usage Conditions Apply
Usage Conditions Apply
Usage Conditions Apply
Usage Conditions Apply
Usage Conditions Apply
Usage Conditions Apply
http://creativecommons.org/licenses/by/4.0/
http://creativecommons.org/licenses/by/4.0/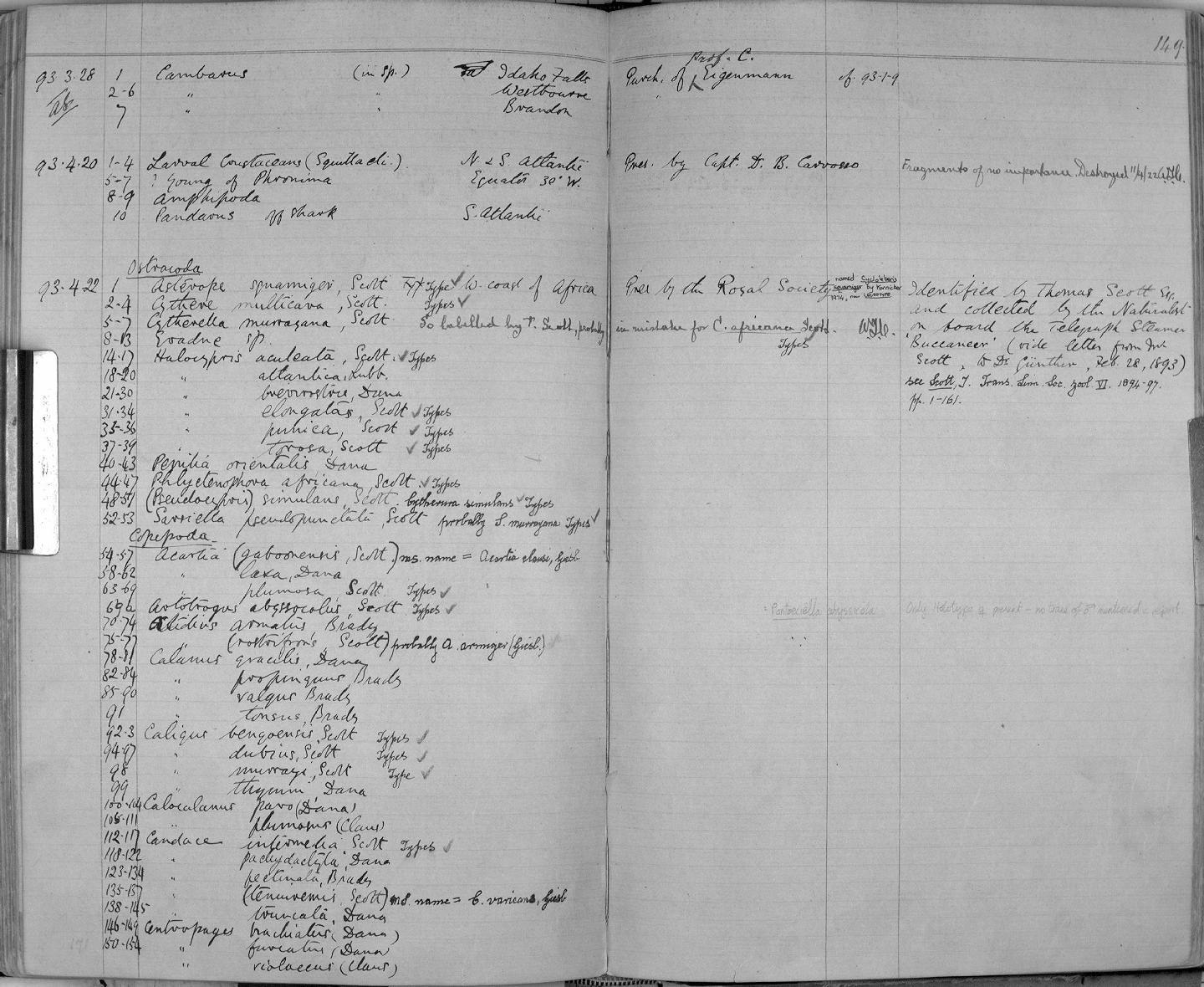 http://creativecommons.org/licenses/by/4.0/
http://creativecommons.org/licenses/by/4.0/
http://creativecommons.org/licenses/by/4.0/
http://creativecommons.org/licenses/by/4.0/
http://creativecommons.org/licenses/by/4.0/
Classification
kingdom

Animalia

phylum

Arthropoda

class

Copepoda

order

Calanoida

family

Centropagidae

genus

Centropages

species

Centropages furcatus
Bibliographic References
Al-Yamani, F.Y., V. Skryabin, A. Gubanova, S. Khvorov & I. Prusova. (2011). Marine Zooplankton Practical Guide for the Northwestern Arabian Gulf. Volume 2. <em>Kuwait Institute for Scientific Research, Safat Kuwait.</em> 196 pp.
Boxshall, G. (2001). Copepoda (excl. Harpacticoida), <B><I>in</I></B>: Costello, M.J. <i>et al.</i> (Ed.) (2001). <i>European register of marine species: a check-list of the marine species in Europe and a bibliography of guides to their identification. Collection Patrimoines Naturels,</i> 50: pp. 252-268
Brodsky, K.A. (1962). K faune i raspredeleniyu veslonogikh rachkov Calanoida poverkhnostnykh vod severo-zapadnoi chasti Tikhogo okeana. On the fauna and distribution of the calanoid copepods from the surface waters of the north-western Pacific Ocean. Issled. dal'nevost. Morei SSSR 8:91-166, figs. 1-60. (Russian).
Brun, P., M.R. Payne & T. Kiørboe. (2017). A trait database for marine copepods. <em>Earth System Science Data.</em> 9(1):99-113. 10.5194/essd-9-99-2017
Ceballos-Vazquez, B.P., S. Hernandez-Trujillo, G.M. Esqueda-Escarcega & M. Arellano-Martinez. (2009). Female gonad morphology of Centropages furcatus (Dana, 1852). <em>Invertebrate Reproduction and Development.</em> 53(2):81–85.
González, J.G. & T.E. Bowman. (1965). Planktonic copepods from Bahía Fosforescente, Puerto Rico, and adjacent waters. Proceedings of the United States National Museum 117(3513):241-303. (24-viii-1965)
Krishnaswamy, S. (1950). Larval stages of some copepods in the Madras plankton and their seasonal fluctuations. Journal of the Madras University, Series B 19:33-58, figs. 1-68, tab. 1.
Lacuna, M.L.D.G., D.D. Simyunn, R.O. Mejorada, N. Espana & D.C. Sagrado. (2013). Description of marine copepods, Centropages furcatus, Eucalanus monachus and Oncaea venusta, in Mindanao waters, Southern Philippines. <em>ABAH Bioflux, Animal Biology & Animal Husbandry International Journal of the Bioflux Society.</em> 5(2):209-228. Dec 2013.
Li, S.J. & J.C. Fang. (1990). Larval stages of marine planktonic copepods of China. China Ocean Press, Beijing 141 pp.
Liu, J.Y. [Ruiyu] (ed.). (2008). Checklist of marine biota of China seas. <em>China Science Press.</em> 1267 pp.
Morales-Ramírez, .A. & Z.J.A. Vargas. (1995). Common species of pelagic copepods (Crustacea: Copepoda) from the Gulf of Nicoya, Costa Rica. Especies comunes de copépodos (C:rustacea: Copepoda) pelágicos del Golfo de Nicoya, Costa Rica. <em>Revista de Biología Tropical.</em> 43(1-3):207-218.
Mulyadi. (2004). Calanoid copepods in Indonesian waters. The pelagic calanoid copeods of the families Acartiidae, Aetideidae, Augaptilidae, Calanidae, Calocalnidae, Candaciidea, Centropagidae, Clausocalanidae, Eucalanidae, Euchaetidae, Heterorhabdidae, Pseudodiaptomidae, Scolecithridae, and Tortanidae in Indonesian waters. <em>Research Center for Biology, Indonesia Institute of Sciences, Bogor, Indonesia.</em> 193 pp. Jan 2004.
Ramírez, F.C. (1966). Copépodos Calanoidos marinos del área de Mar del Plata con la descripción de Pontella marplatensis n. sp. <em>Boletín del Instituto de Biologia Marina, Mar del Plata.</em> 11:1-24, pls. 1-7, tab. 1. (viii-1966).
Revis, N. & E.N. Okemwa. (1988). Additional records of species of copepods and their distribution in the coastal and inshore waters of Kenya. <em>Kenya Journal of Sciences, Series B.</em> 9(1-2):123-127.
Sazhina, L.I. (1985). Naupliusy massovykh vidov pelagickeskikh kopepod Mirovogo okeana. (Naupliuses of mass species of the world's oceans.) Naukova Dumka, Kiev 238pp.
Shoaib, F.M. & Q.B. Kazmi. (2021). Pelagic copepods collected by the northern Arabian Sea Naseer Cruise 1. <em>Lambert Academic Publishing, Dodo Books Indian Ocean Ltd.</em> 242 pp.
Streletskaya, E.A. (1990). The Cyclops scutifer group (Cyclopidae) and new species from the North-East of the USSR. Tsiklopy (Cyclopidae, Cyclops) gruppy scutifer i novye vidy s severo-vost. <em>Zoologicheskiĭ Zhurnal.</em> 69(6): 31-44. (In Russian).
Ummerkutty, A.N.P. (1967). Studies on Indian copepods. 8. Observations on the diurnal vertical movements of planktonic copepods in the Gulf of Mannar. Journal of the Bombay Natural History Society 63(2):332-343, figs. 1-4, tabs. 1-5, map. (27-iii-1967)
Vervoort, W. (1965). Pelagic Copepoda. Part II. Copepoda Calanoida of the families Phaennidae up to and including Acartiidae, containing the description of a new species of Aetideidae. Atlantide Report, Danish Expedition to Coasts of Tropical West Africa 1945-1946 8:9-216.
Wolfenden, R.N. (1906). Notes on the collection of Copepoda. In: Stanley Gardiner, J. (ed.). The Fauna and Geography of the Maldive and Laccadive Archipelagoes. University Press, Cambridge 2, suppl. 1: 989-1040, pls. 96-100.