Pseudonereis gallapagensis Kinberg, 1865
Dataset

GBIF Backbone Taxonomy

Rank

SPECIES

Published in

Kinberg, J. G. H. (1865). Annulata nova. [Continuatio.]. Öfversigt Af Königlich Vetenskapsakademiens Förhandlingar, Stockholm, 22(2): 167–179. https://www.marinespecies.org/polychaeta/aphia.php?p=sourcedetails&id=58807
http://creativecommons.org/licenses/by/4.0/
http://creativecommons.org/licenses/by/4.0/
http://creativecommons.org/licenses/by/4.0/
http://creativecommons.org/licenses/by/4.0/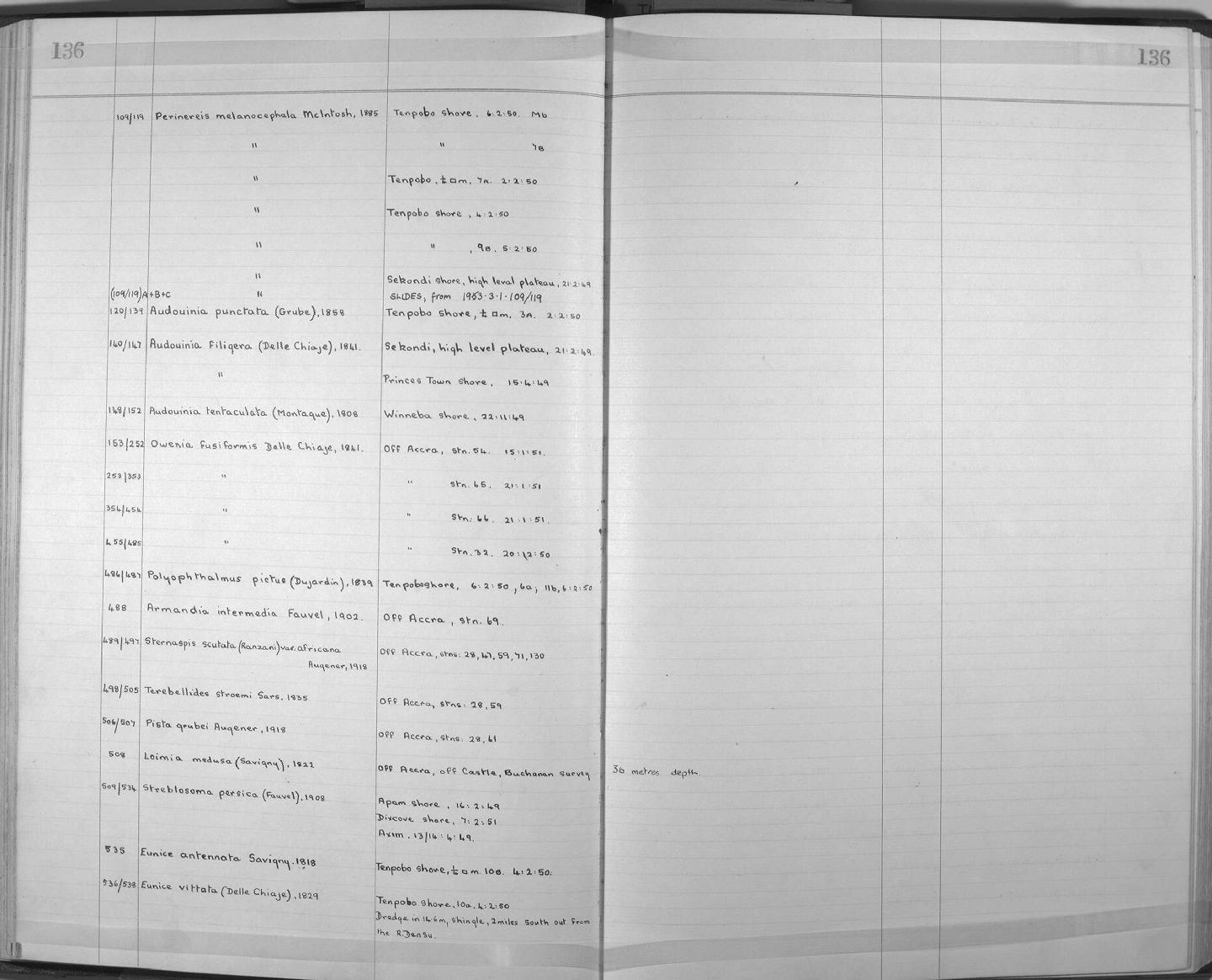 http://creativecommons.org/licenses/by/4.0/
http://creativecommons.org/licenses/by/4.0/
Classification
kingdom

Animalia

phylum

Annelida

class

Polychaeta

order

Phyllodocida

family

Nereididae

genus

Pseudonereis

species

Pseudonereis gallapagensis
Name
Synonyms

Homonyms

Common names

ヤリサキゴカイ

in Japanese

ヤリサキゴカイ

in Japanese
Bibliographic References
Bakken, Torkild. (2007). Revision of <i>Pseudonereis</i> (Polychaeta, Nereididae). <em>Zoological Journal of the Linnean Society.</em> 150(1): 145-176. 10.1111/j.1096-3642.2007.00289.x
Bakken, Torkild; Wilson, Robin S. (2005). Phylogeny of nereidids (Polychaeta, Nereididae) with paragnaths. <em>Zoologica Scripta.</em> 34(5): 507-547. 10.1111/j.1463-6409.2005.00200.x
Conde-Vela, Víctor Manuel. (2018). New species of Pseudonereis Kinberg, 1865 (Polychaeta: Nereididae) from the Atlantic Ocean, and a review of paragnath morphology and methodology. <em>Zootaxa.</em> 4471(2): 245-278. 10.11646/zootaxa.4471.2.2
Fauchald, K.; Granados-Barba, A.; Solís-Weiss, V. (2009). Polychaeta (Annelida) of the Gulf of Mexico, Pp. 751–788 in D.L. Felder and D.K. Camp (eds.). <em>Gulf of Mexico. Origin, Waters, and Biota. Volume 1, Biodiversity.</em> Texas A&M University Press, College Station, Texas.
Fauvel, P. (1953). The fauna of India including Pakistan, Ceylon, Burma and Malaya : Annelida, Polychaeta. The Indian Press, Ltd, Allahabad. xii and 507 p.
Hartman, Olga. (1948). The marine annelids erected by Kinberg. With some notes on some other types in the Swedish State Museum. <em>Arkiv för Zoologi.</em> 42(1): 1-137, & plates 1-18.
Hartmann-Schröder, G. 1962. Zur Kenntnis der Nereiden Chiles (Polychaeta errantia), mit Beschreibung epitoker Stadien einiger Arten und der Jugendentwicklung von Perinereis vallata (Grube). Zoologischer Anzeiger, 168(11-12): 389-441.
Hylleberg, Jorgen; Nateewathana, Anuwat; Bussarawit, Somchai. (1986). Polychaetes of Thailand, Nereidae [sic Nereididae] (part 1); Perinereis and Pseudonereis, with notes on species of commercial value. <em>Phuket Marine Biological Center, Research Bulletin.</em> 43: 1-22.
Kinberg, J.G.H. (1865). Annulata nova. [Continuatio.]. <em>Öfversigt af Königlich Vetenskapsakademiens förhandlingar, Stockholm.</em> 22(2): 167-179.
Liu, J.Y. [Ruiyu] (ed.). (2008). Checklist of marine biota of China seas. <em>China Science Press.</em> 1267 pp.
Okuda, Shiro. (1940). Polychaetous annelids of the Ryukyu Islands. <em>Bulletin of the Biogeographical Society of Japan.</em> 10(1): 1-24.
Wesenberg-Lund, Elise. (1962). Reports of the Lund University Chile Expedition 1948-49. 43. Polychaeta Errantia. <em>Acta Universitets Arsskrift.</em> (Avd.2) 57(12): 1-137.