Babelomurex mansfieldi (T.L.McGinty, 1940)
Dataset

GBIF Backbone Taxonomy

Rank

SPECIES
http://creativecommons.org/licenses/by/4.0/
http://creativecommons.org/licenses/by/4.0/
http://creativecommons.org/licenses/by/4.0/
http://creativecommons.org/licenses/by/4.0/
http://creativecommons.org/licenses/by/4.0/
http://creativecommons.org/licenses/by/4.0/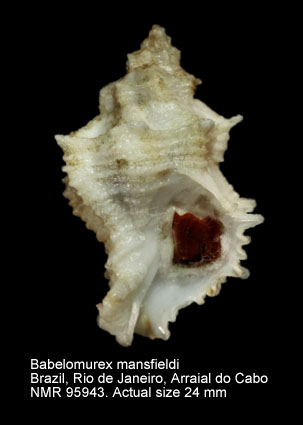 http://creativecommons.org/licenses/by/4.0/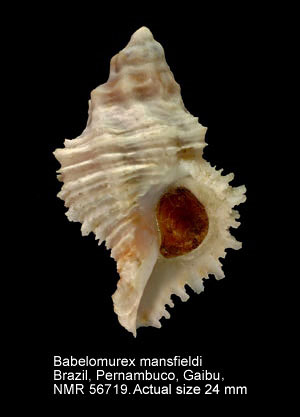 http://creativecommons.org/licenses/by/4.0/
http://creativecommons.org/licenses/by-nc/4.0/
http://creativecommons.org/licenses/by-nc/4.0/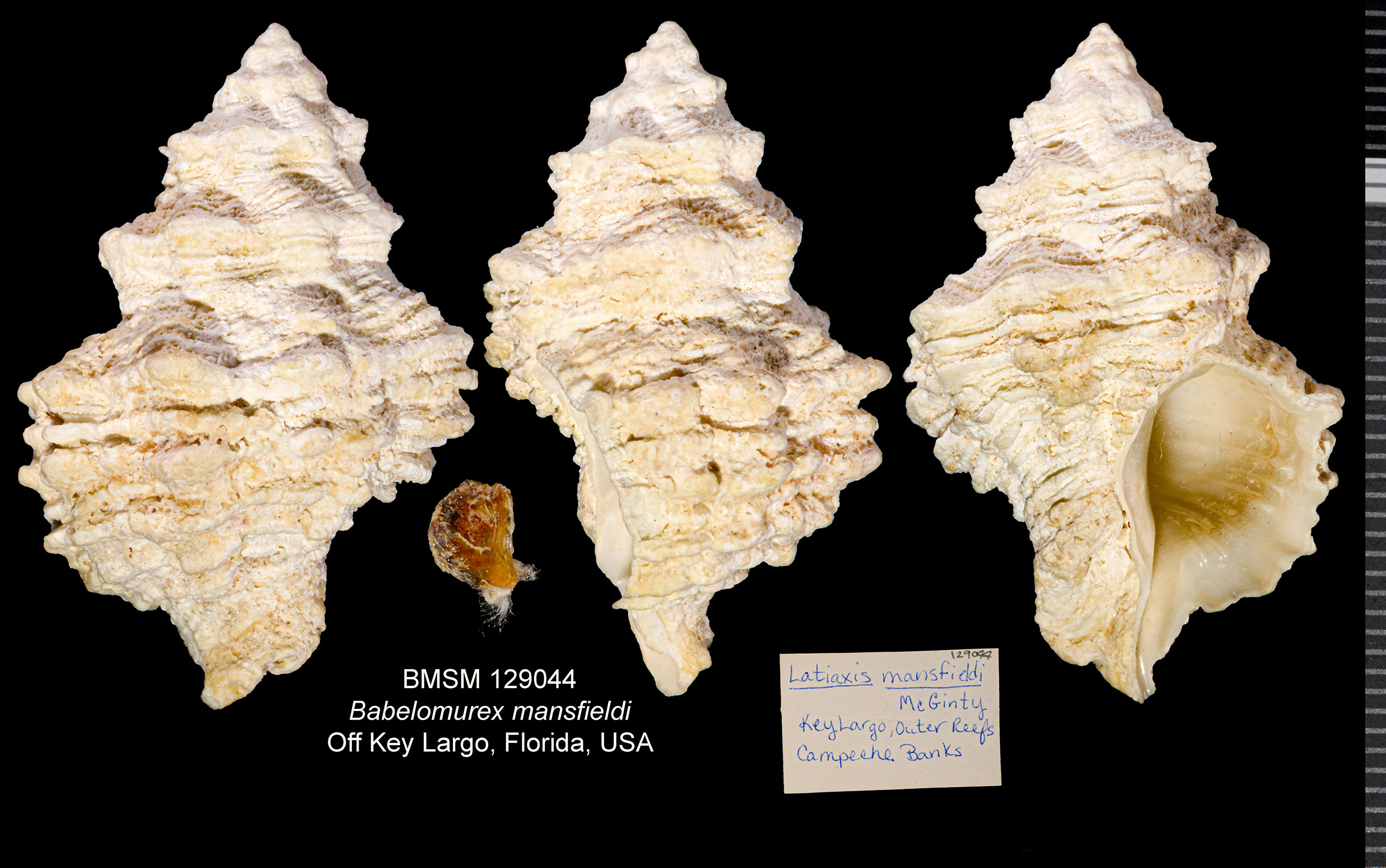 http://creativecommons.org/licenses/by-nc/4.0/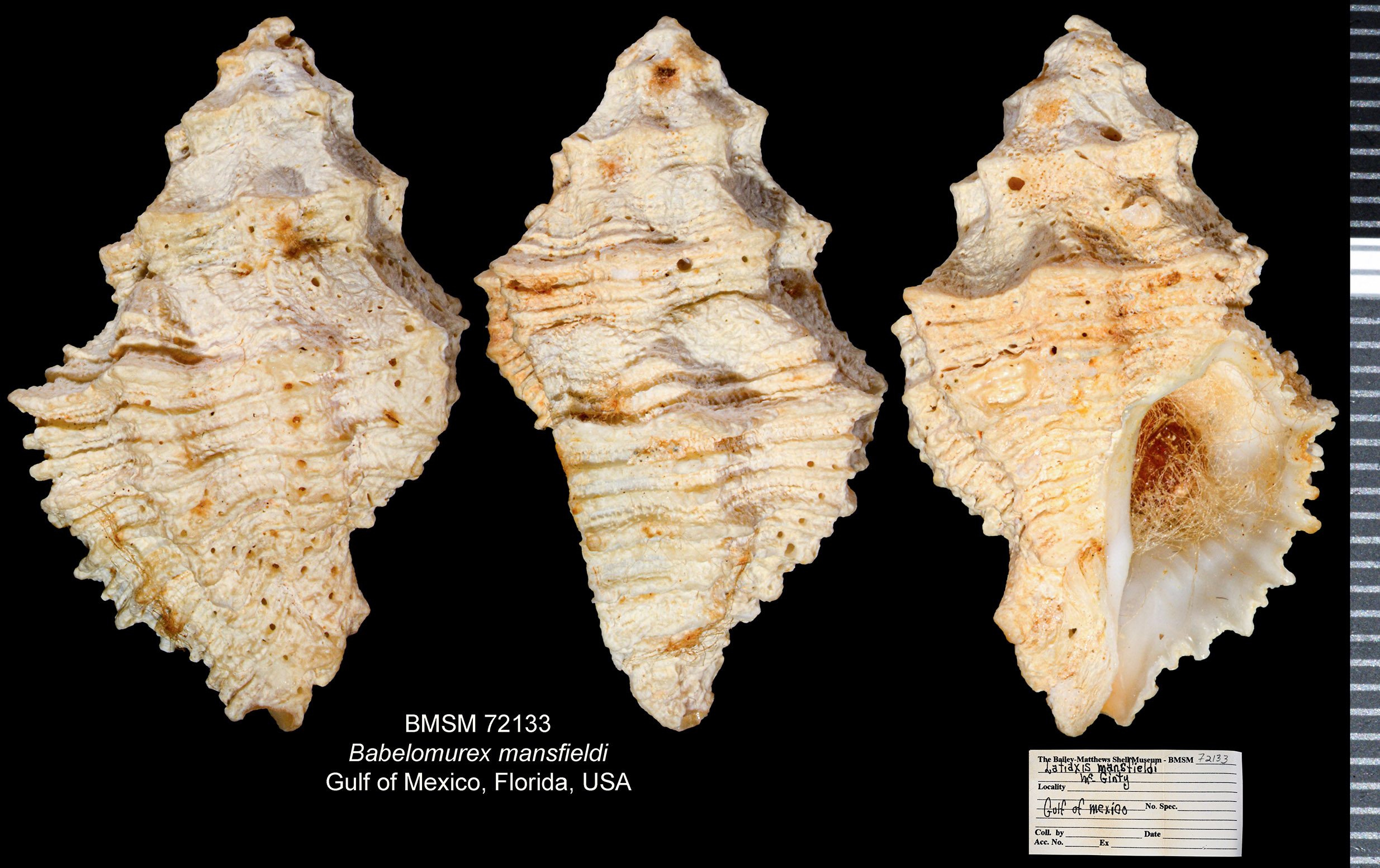 http://creativecommons.org/licenses/by-nc/4.0/
http://creativecommons.org/licenses/by-nc/4.0/
Classification
kingdom

Animalia

phylum

Mollusca

class

Gastropoda

order

Neogastropoda

family

Muricidae

genus

Babelomurex

species

Babelomurex mansfieldi
Name
Synonyms

Homonyms

Common names

Staircase Coralsnail

in English
Bibliographic References
Garrigues, B., Lamy, D. & Zuccon, D. (2022). The Coralliophilinae from the Antilles and French Guiana with the description of six new species. <em>Xenophora Taxonomy.</em> 37: 4-53.
Rosenberg, G.; Moretzsohn, F.; García, E. F. (2009). Gastropoda (Mollusca) of the Gulf of Mexico, Pp. 579–699 <i>in:</i> Felder, D.L. and D.K. Camp (eds.), Gulf of Mexico–Origins, Waters, and Biota. Texas A&M Press, College Station, Texas.
Turgeon, D. D., J. F. Quinn, Jr., A. E. Bogan, E. V. Coan, F. G. Hochberg, W. G. Lyons, et al., 1998: Common and scientific names of aquatic invertebrates from the United States and Canada: Mollusks, 2nd ed.. American Fisheries Society Special Publication 26. 526.