Chiridius poppei Giesbrecht, 1893
Dataset

GBIF Backbone Taxonomy

Rank

SPECIES

Published in

World of Copepods database. Chiridius poppei Giesbrecht, 1893. Accessed through: World Register of Marine Species at: http://www.marinespecies.org/aphia.php?p=taxdetails&id=104293 on 2020-02-17
http://creativecommons.org/licenses/by/4.0/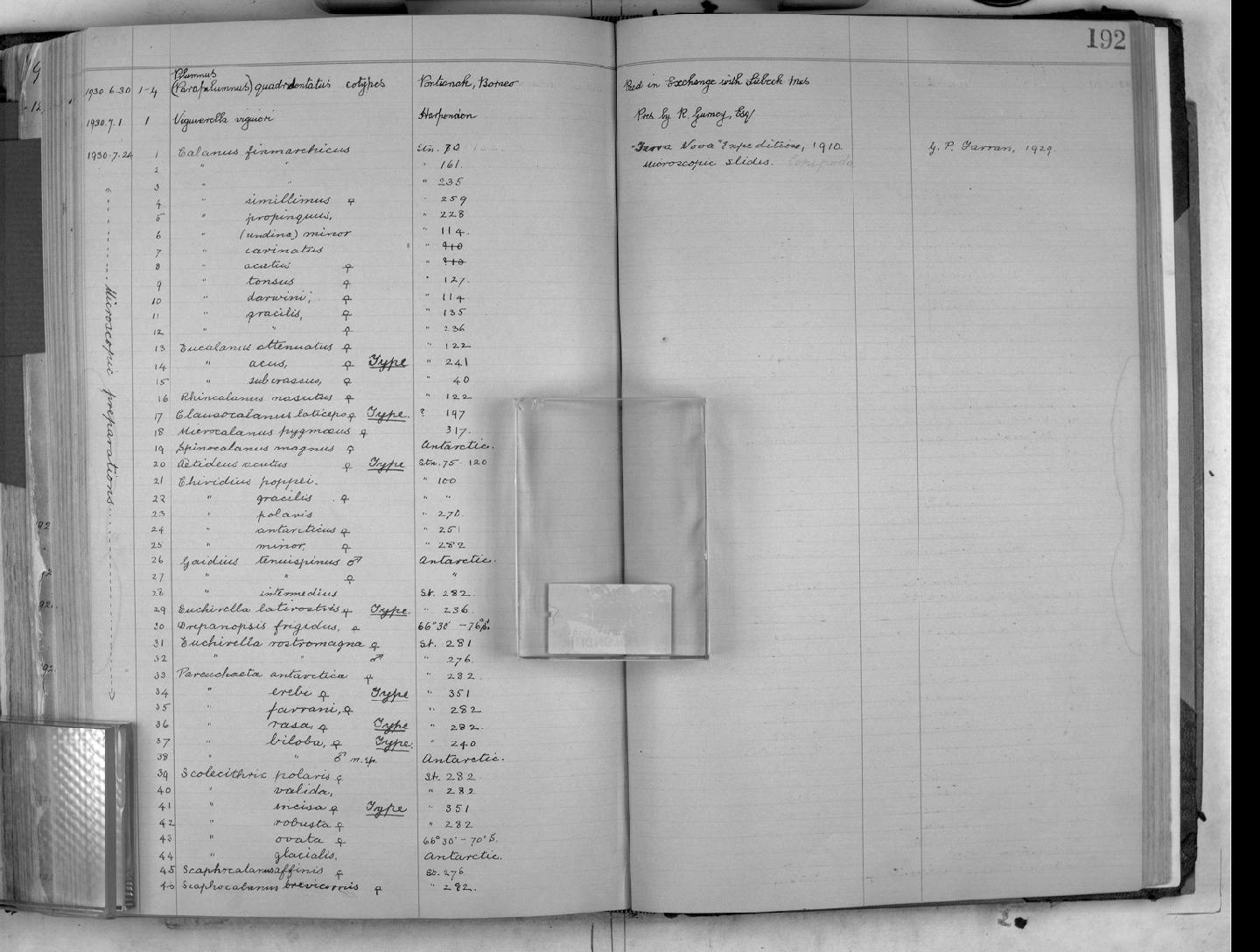 http://creativecommons.org/licenses/by/4.0/
http://creativecommons.org/publicdomain/zero/1.0/
Classification
kingdom

Animalia

phylum

Arthropoda

class

Copepoda

order

Calanoida

family

Aetideidae

genus

Chiridius

species

Chiridius poppei
Bibliographic References
Boxshall, G. (2001). Copepoda (excl. Harpacticoida), <B><I>in</I></B>: Costello, M.J. <i>et al.</i> (Ed.) (2001). <i>European register of marine species: a check-list of the marine species in Europe and a bibliography of guides to their identification. Collection Patrimoines Naturels,</i> 50: pp. 252-268
Brun, P., M.R. Payne & T. Kiørboe. (2017). A trait database for marine copepods. <em>Earth System Science Data.</em> 9(1):99-113. 10.5194/essd-9-99-2017
Grice, G.D. & K. Hulsemann. (1967). Bathypelagic calanoid copepods of the western Indian Ocean. <em>Proceedings of the United States National Museum.</em> 122(3583):1-67, figs. 1-319.
Ices Zooplankton: Copepoda. sheet n° 32.
Liu, J.Y. [Ruiyu] (ed.). (2008). Checklist of marine biota of China seas. <em>China Science Press.</em> 1267 pp.
Markhaseva, E.L. (1996). Calanoid copepods of the family Aetideidae of the world ocean. Zoological Institute, Russian Academy of Sciences, St. Petersburg 268:1-331.
Markhaseva, Elena L., 1996: Calanoid Copepods of the family Aetideidae of the World Ocean. Trudy Zoologicheskogo Instituta Rossiiskoi Akademii Nauk, vol. 268. 331.
Park, T. (1975). Calanoid copepods of the genera Aetideopsis, Pseudaetideus, and Chiridius from the Gulf of Mexico. Bulletin of Marine Science 25(2):272-290.
Suárez-Morales, E., J.W. Fleeger & P.A. Montagna. (2009). Free-living Copepoda (Crustacea) of the Gulf of Mexico. <em>In: Felder, D. L. & D.K. Camp [Eds]. Gulf of Mexico: origin, waters, and biota. Volume 1, Biodiversity. Texas A&M University Press, 1393 pp.</em> Chapter pagination: 841-869.
Vervoort, W. (1963). Pelagic Copepoda. Part I. Copepoda Calanoida of the families Calanidae up to and including Euchaetidae. Atlantide Report No.7: Scientific Results of the Danish Expedition to the Coasts of Tropical West Africa 1945-1946. 7:77-194, figs. 1-23. (30-xii-1963)
Webber, W.R., G.D. Fenwick, J.M. Bradford-Grieve, S.G. Eagar, J.S. Buckeridge, G.C.B. Poore, E.W. Dawson, L. Watling, J.B. Jones, J.B.J. Wells, N.L. Bruce, S.T. Ahyong, K. Larsen, M.A. Chapman, J. Olesen, J.S. Ho, J.D. Green, R.J. Shiel, C.E.F. Rocha, A. Lörz, G.J. Bird & W.A. Charleston. (2010). Phylum Arthropoda Subphylum Crustacea: shrimps, crabs, lobsters, barnacles, slaters, and kin. <em>in: Gordon, D.P. (Ed.) (2010). New Zealand inventory of biodiversity: 2. Kingdom Animalia: Chaetognatha, Ecdysozoa, Ichnofossils.</em> pp. 98-232 (COPEPODS 21 pp.).