Scaphocalanus curtus (Farran, 1926)
Dataset

GBIF Backbone Taxonomy

Rank

SPECIES
http://creativecommons.org/licenses/by/4.0/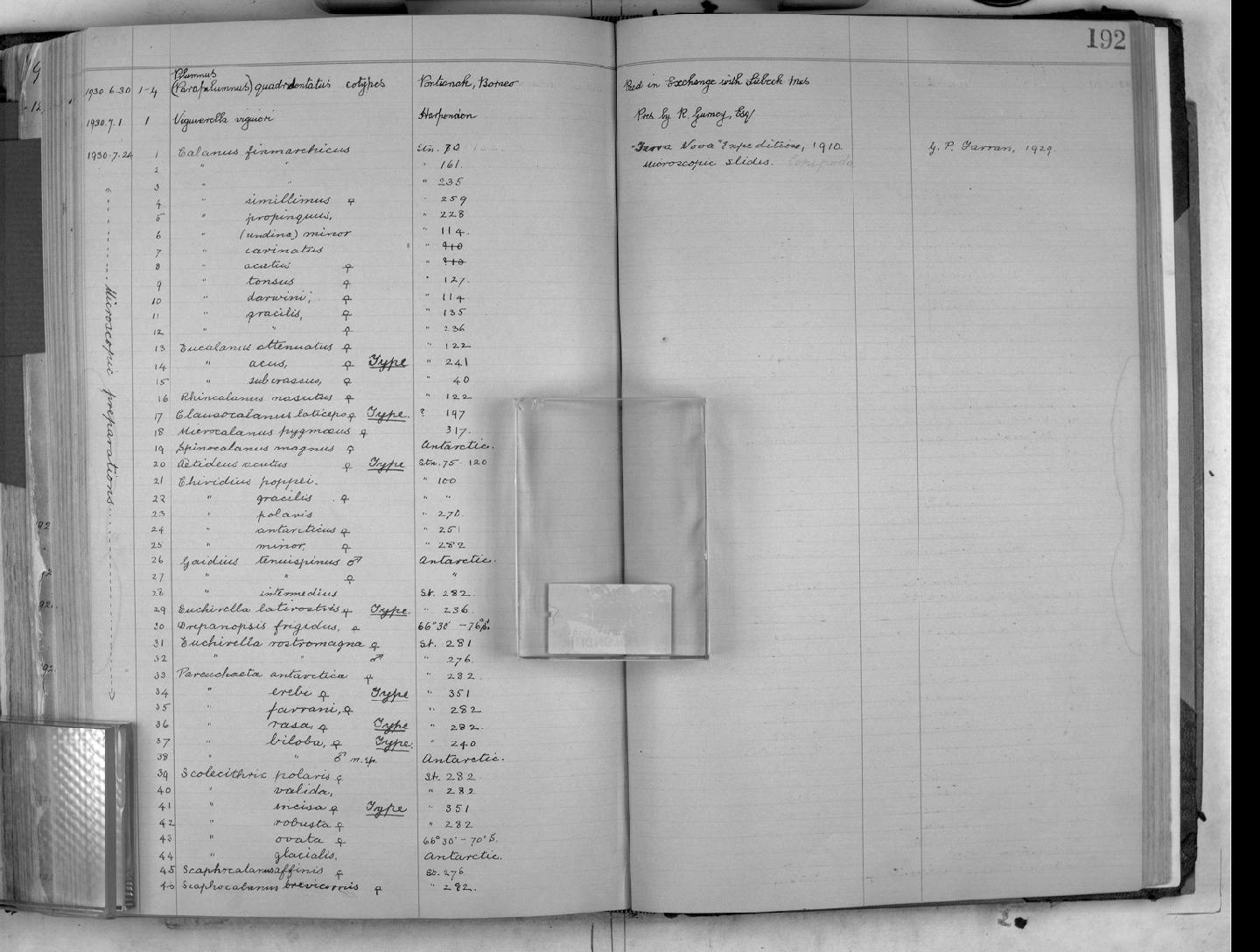 http://creativecommons.org/licenses/by/4.0/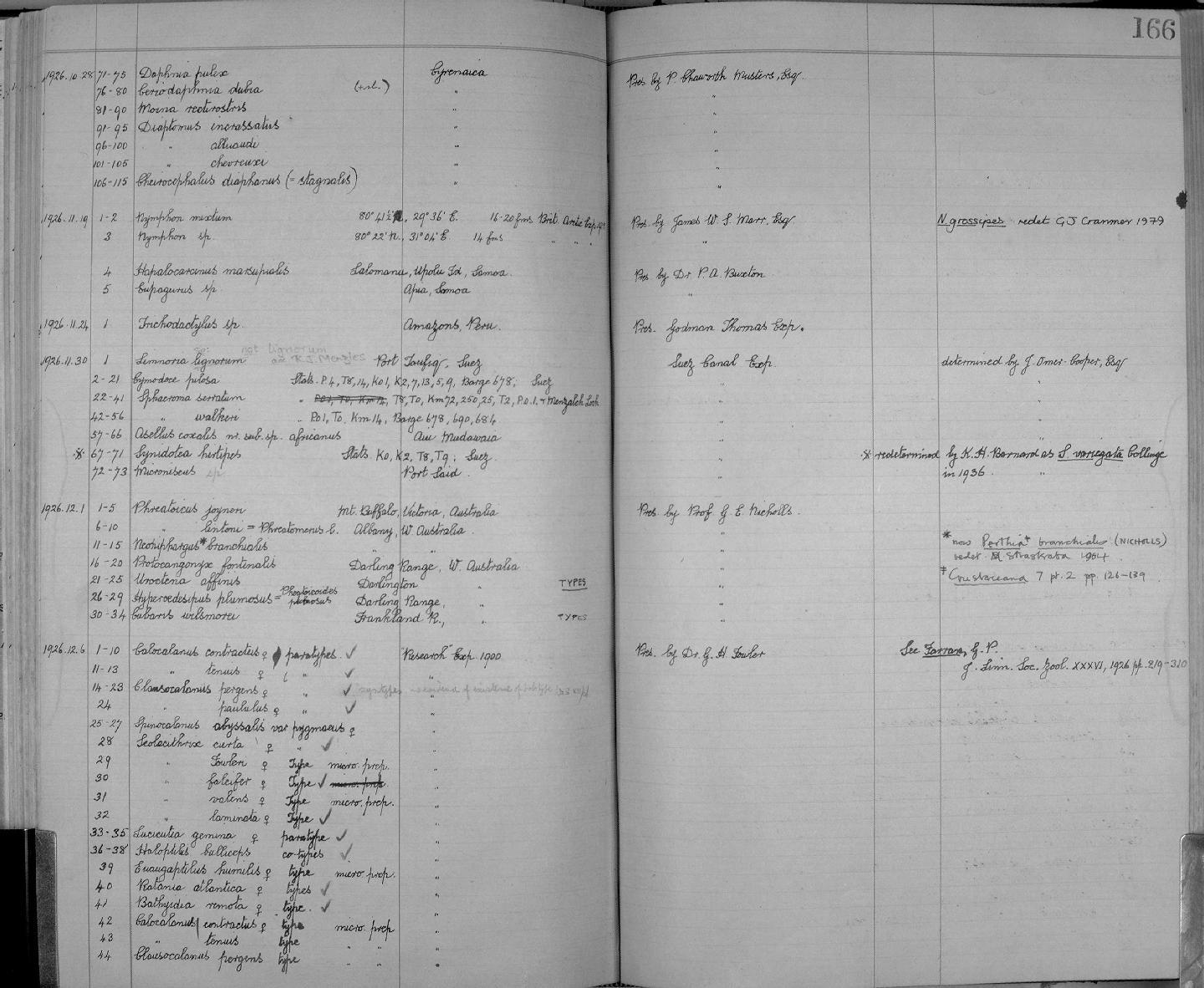 http://creativecommons.org/licenses/by/4.0/
http://creativecommons.org/licenses/by/4.0/
Classification
kingdom

Animalia

phylum

Arthropoda

class

Copepoda

order

Calanoida

family

Scolecitrichidae

genus

Scaphocalanus

species

Scaphocalanus curtus
Bibliographic References
Boxshall, G. (2001). Copepoda (excl. Harpacticoida), <B><I>in</I></B>: Costello, M.J. <i>et al.</i> (Ed.) (2001). <i>European register of marine species: a check-list of the marine species in Europe and a bibliography of guides to their identification. Collection Patrimoines Naturels,</i> 50: pp. 252-268
Brun, P., M.R. Payne & T. Kiørboe. (2017). A trait database for marine copepods. <em>Earth System Science Data.</em> 9(1):99-113. 10.5194/essd-9-99-2017
Campaner, A.F. (1984). Scaphocalanus and Scolecithricella (Copepoda, Calanoida, Scolecithricidae) from the epipelagial off southern Brazil: a taxonomic and distributional survey. Boletim de Zoologia, Universidade de Sao Paulo 8:165-187, figs. 1-9, tab. 1.
Grice, G.D. & K. Hulsemann. (1967). Bathypelagic calanoid copepods of the western Indian Ocean. <em>Proceedings of the United States National Museum.</em> 122(3583):1-67, figs. 1-319.
Mazzocchi, M.G., G. Zagami, A. Ianora, L. Guglielmo, N. Crescenti & J. Hure. (1995). Copepods. <em>In: Guglielmo, L. & A. Ianora (eds.). Atlas of Marine Zooplankton, Straits of Magellan. Springer-Verlag, Berlin, New York.</em> 279 pp.
Park, T. (1970). Calanoid copepods from the Caribbean Sea and Gulf of Mexico. 2. New species and new records from plankton samples. Bulletin of Marine Science 20(2):472-546, figs. 1-402. (vi-1970)
Suárez-Morales, E., J.W. Fleeger & P.A. Montagna. (2009). Free-living Copepoda (Crustacea) of the Gulf of Mexico. <em>In: Felder, D. L. & D.K. Camp [Eds]. Gulf of Mexico: origin, waters, and biota. Volume 1, Biodiversity. Texas A&M University Press, 1393 pp.</em> Chapter pagination: 841-869.
Vervoort, W. (1965). Pelagic Copepoda. Part II. Copepoda Calanoida of the families Phaennidae up to and including Acartiidae, containing the description of a new species of Aetideidae. Atlantide Report, Danish Expedition to Coasts of Tropical West Africa 1945-1946 8:9-216.
Vyshkvartzeva, N.V. (1993). On the systematics of 4 Scaphocalanus species (Copepoda Calanoida Scolecithricidae), the females of which have no fifth leg. K sistematike 4 vidov Scaphocalanus (Copepoda, Calanoida: Scolecithricidae), imeyushchikh samku bez 5 pary nog. <em>In: Stepan'yants, S.D. (ed.). Morskoi plankton. Sistematika, ekologiya, raspredelenie, II. Marine plankton. Taxonomy, ecology, distribution [filed under Stepanyants, S.D.].</em> 2:7-29, figs 1-5, tabs 1-3. (Russian with English summary.).
Webber, W.R., G.D. Fenwick, J.M. Bradford-Grieve, S.G. Eagar, J.S. Buckeridge, G.C.B. Poore, E.W. Dawson, L. Watling, J.B. Jones, J.B.J. Wells, N.L. Bruce, S.T. Ahyong, K. Larsen, M.A. Chapman, J. Olesen, J.S. Ho, J.D. Green, R.J. Shiel, C.E.F. Rocha, A. Lörz, G.J. Bird & W.A. Charleston. (2010). Phylum Arthropoda Subphylum Crustacea: shrimps, crabs, lobsters, barnacles, slaters, and kin. <em>in: Gordon, D.P. (Ed.) (2010). New Zealand inventory of biodiversity: 2. Kingdom Animalia: Chaetognatha, Ecdysozoa, Ichnofossils.</em> pp. 98-232 (COPEPODS 21 pp.).